Jonathan Moore Civil War letter 1862 (MIL.2)
A letter home in 1862 from Jonathan Moore, a soldier in Company B of the 2nd Maine Infantry.
A letter home from Jonathan L. Moore
Jonathan L. Moore was a soldier in Company B, 2nd Maine Infantry during the Civil War.  While in Camp Jamerson, Halls Hill, across the Potomac River from Washington, D.C., he wrote the following letter home. A scan and transcript of the original letter is followed by information about Jonathan.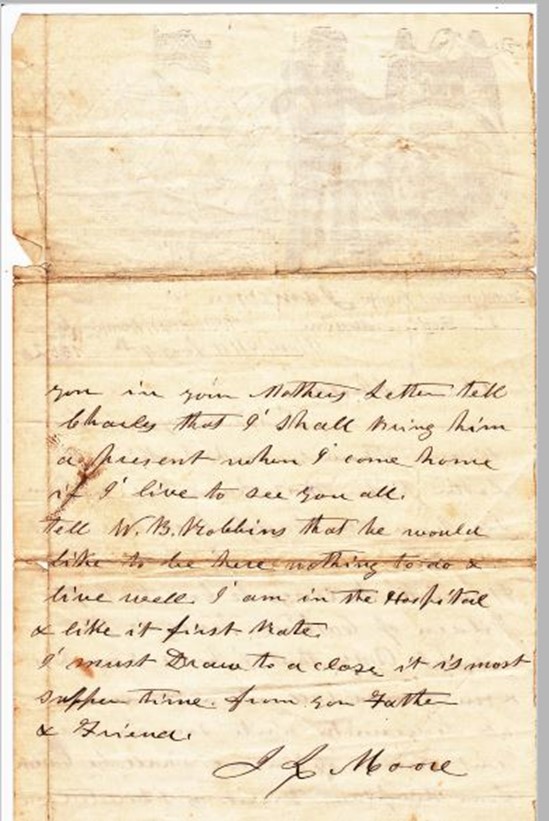 Transcription of Jonathan's letter home.
---
"Headquarters Camp Jamerson
2nd Reg't Maine Volunteers Comp'n E
Halls Hill Jany 4th 1862
Dear Child, I write you a few lines and show you what kind of letter paper we have here.  You can see how our camps look here 4 of us sleep in one camp.  David B. Herrick belongs to Com. B Capt. Gilden of Castine.  Today is the coldest day that I have seen here & you would call it a warm one at Sedgwick.  Write soon for we don't know when we shall be callen from this place.  Direct as I directed you in your mother's letter tell Charles that I shall bring him a present when I come home if I live to see you all.    Tell W.B. Robbins that he would like to be here nothing to do & live well. I am in the hospital and like it first rate.
I must draw to a close it is almost supper time.  From son Father and Friend.
J.L. Moore"
---
Information about Jonathan L. Moore
Compiled by David Anderson, Sargentville, Maine